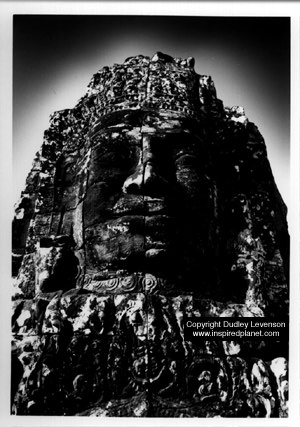 Colossal 13th century Avalokitesvara at Bayon
Angkor--The Throne of Heaven

A show of extraordinary images from the legendary region of Angkor Wat in Cambodia by New York/Berkshire photographer and explorer, Dudley Levenson, is available through Inspired Planet.

The artist features black and white photographs focusing on the gods and heavenly architecture of lesser-known but powerful outlying temples. The collection includes some color images with information researched on Levenson's latest expedition.

In conjunction with the show there is an exhibition and sale of bronze sculpture, temple rubbings and sacred idols just arrived from Cambodia. Simultaneously Buddhist and Hindu idols and objects from other related cultures are on display for comparison.

History of Discovery

A thousand years ago, Cambodia had one of the wealthiest kingdoms and greatest cultures in all of Asia. Early travelers, like Marco Polo, told of an advanced civilization with splendid cities of gold. After centuries of military invasions and the encroachment of huge strangler fig trees, the grandeur has been reduced to ruins. Even now the ruthless guerrillas of the Khmere Rouge haunt the outlying region of Angkor making travel risky. "Only around the remote temples did I need an armed escort", says Levenson, "the main sites are relatively secure and one has the sense of being in a magnificent sanctuary."

A Story of Mysterious Gods and Archeological Intrigue

Ever since 19th century French expeditions hacked through the dense jungle and rediscovered the vast complex of stone temples, pyramids and palaces, the true nature of Angkor has been shrouded in mystery. Some have speculated that it was originally built by Alexander the Great or that it was the remote seat of an Indian dynasty. The identity of Angkor's gods and the purpose of the fabulous structures was a great unknown to explorers, archeologists and art historians. After years of digging and various interpretations of the Khmere enigma, the cultural influence of Hinduism and Buddhism has been proven, yet Levenson goes further, "There is a similarity to the Mayans, but the most apt comparison is to ancient Egypt."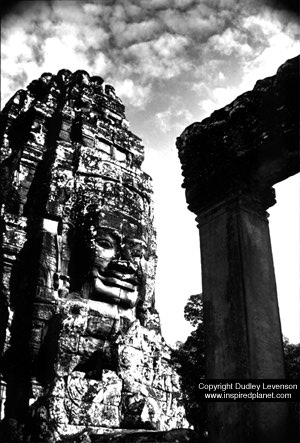 The enigmatic smile of the compassionate Buddha has been compared to the Sphinx of Egypt and the heads of Easter Island. The collection at Inspired Planet features photographs and objects from legendary Angkor in Cambodia.
| | |
| --- | --- |
| Asia | |
| Animals | |
| Aerial | |
| People | |
| Landscapes | |
| America | |
| Artifacts | |
| Africa | |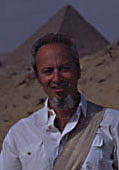 Dudley Levenson is a photographer, lecturer, artist, travel consultant and incurable collector of art and handcraft which is shown around America and especially at his gallery in the Berkshire Mountains of Western Massachusetts for the last 22 years. A Manhattan native with nomad spirit, Mr. Levenson went to art museums in New York as a boy and was exposed to anthropology at University of Pennsylvania, but emphasizes, "I really felt the fire of interest ignite when venturing through Central America, Africa and the Orient. His recent trips have been to Egypt, Ethiopia, Burma, Rajasthan, Nepal and Tibet.
Support us with a digg!