We have traveled
the earth on a noble quest seeking unusual beauty, wisdom and inspired crafts.

Who are we?

Aarondell Livingstone, our intrepid hunter and gatherer, is the stuff of legend. He was born into great wealth and nobility, but his ancestral dynasty was racked with scandal. One night the house went up in flames and an old gypsy woman swaddled the innocent babe in tea leaves and ascended to the highlands of Ceylon. At the age of seven, he wandered into the jungle and was raised to manhood by a herd of wild elephants. He learned to hunt with leopards and swing with monkeys; he spoke their language. Aarondell's first job was attending the sacred white elephant at the Temple of Tooth in Kandy. There at age eighteen he had a fortuitous meeting with adventurers Alexandra David-Neal, and her companion the beloved swami, Paramahansa Yogananda, who sponsored his education and first expeditions. He is credited with translating the Rosetta Stone. Whilst cataloging ritual paraphernalia in the burial chambers of Machu Picchu he discovered a fortune in Inca gold. His explorations of Timbuktu, Sierra Tarahumara, Tana Toraja, Lake Titicaca, Transylvania, Burma, Hunza, India and Ethiopia are enjoyed by millions on television. Although Dr. Livingstone likes nothing better than tending to his vegetable garden, he is arguably one of the pillars for our planetary civilization. He lives on the other side of the looking glass.

Dudley Levenson, Director of Inspired Planet, has been traveling the earth for thirty-five years, exploring indigenous cultures and researching classical traditions.

He is a photographer, lecturer, artist, travel consultant and incurable collector of art and handcraft which is shown around America and especially at his gallery in the Berkshire Mountains of Western Massachusetts for the last 22 years.






Brian raising a victory flag for the Caravan of Colors

Aarondell surveying an old Burmese Monastery

Dudley putting finishing touches on the Sun Portal specially made for the Caravan of Colors. Symbols include Platonic Solids and our new Earth Rising/Heaven's Blessing insignia.
Address for Mailing
and Map Quest
Brushwood Farm
36 Pittsfield Road
Lenox, MA. 01240
U.S.A. 413-637-2836



Email us. Questions
Comments Information
info@inspiredplanet.com

We were delighted by the recent comparison of Inspired Planet with one of the great European Cabinet of Curiosity collections by Mr. C.L. Dodge: "The Pitt Rivers Museum in Oxford runs a close second to the Dudley Emporium of ecstatic experience"
Recommended Links:
OneEarth Gallery: a browsable public service directory recognizing progressive organizations and companies working to improve our culture and environment through their resources and actions.

Macrobiotics.org: On these pages you'll find a wealth of information including case histories, articles, recipes, and much more.
Cultural Survival: a non-profit organization founded in 1972 to defend the human rights and cultural autonomy of indigenous peoples and oppressed ethnic minorities.

Nicholas Roerich Museum: a center for the exhibition of Himalayan paintings by mystic, Nicholas Roerich, and makes available many reproductions of his art and numerous books about his life and work. The Museum is also a cultural center, presenting a broad program of concerts and poetry readings.

Tantra: resource for Tantra, Sacred Sexuality, and the Kama Sutra on the Net. Discover a whole new world of Ecstatic Sex and Sacred Relationship!

Native Web: resources for indigenous cultures around the world.

Institute of Noetic Sciences: For 25 years, the Institute of Noetic Sciences has been at the forefront of research and education in consciousness and human potential. From the beginning we have pursued this inquiry through rigorous science.

The Metropolitan Museum of Art: official web site of the famous New York museum.

Burning Man: resource for the Burning Man event in the Nevada desert.

SoulTube Records: The Housatonic Railroad Station, home of SoulTube Records, not far from Inspired Planet. This is where Robby hangs out with his friends recording and producing. Come on in and see for yourself...
TheMouth.org: complete and searchable resource for environmental information (Earth, Air, Water) done artistically and thematically using the latest java and DHTML techniques.

Lonely Planet: publishes the world's best guidebooks for independent travelers. Our books are known worldwide for reliable, insightful, pull-no-punches travel information, maps, photos, and background historical and cultural information.

Nancy Forrester's Secret Garden: a magnificent sanctuary in the center of the urban island, Key West, with lush, exotic palms and dozens of tropical birds. This is where Inspired Planet has a show every two years.

Kripalu: the largest center for yoga and holistic health in the US, serving people of all backgrounds for more than 20 years. Only seven minutes from Inspired Planet.

Afropop is representative of the immense and richly varied landscape of contemporary African music.

www.ciolek.com: This site keeps track of leading information facilities in the fields of Buddhism and Buddhist studies.

The Deoxyribonucleic Hyperdimension: explores chemical/philosophical dimensions of the mind. Trippy graphics, too.

Cross Cultural Solutions.org: is a nonprofit organization that employs humanitarian volunteer action to empower local communities, foster cultural sensitivity and understanding, and further social progress in India, Ghana, Peru, Kosovo and through the women's cultural tour of India, "Saheli".

Parabola Magazine: an in-depth and enduring journal of the world's wisdom traditions. Join us as we explore the sacred myths, symbols, rituals, and arts which have inspired people in all times and places.

Essential Information: a non-profit, tax-exempt organization involved in a variety of projects to encourage citizens to become active and engaged in their communities. They provide provocative information to the public on important topics neglected by the mass media and policy makers
Arab.net: The most comprehensive online resource on Egypt and the Arab world, primarily dealing with countries in the Middle East and North Africa.

Ultimate Descents International, adventure sport specialists, based in New Zealand, offer an array of rafting adventures in Nepal. Check out their website

Rhythm is a world music magazine with lifestyle oriented coverage. Published monthly, Rhythm is aimed at the growing segment of consumers that are hip to the sounds & ideas of our changing global culture.

The Adventure Game Theatre (AGT) is an experience-based, personal growth theater program that uses a unique combination of cooperative play and creative arts.

Institute of Transpersonal Psychology offer a unique oppertunity for students to integrate mind, body, and spirit and to explore diverse cross-cultural modalities of learning, inquiry, and personal transformation.
Institute for Imago Relationship Therapy is a resource to learn more about Imago Relationship Therapy, the therapists who practice it, and how you may benefit by it in your current relationship or in developing a new relationship.

The School of Energy Mastery offers they opportunity for deep personal heeling and professional healer certification in a unique, spiritually based program.

Phoenix Rising Yoga Therapy is a combination of classical Yoga and elements of contemporary client-centered and body-mind psychology.

Touching Spirit Center is an educational center in the science of energy medicine and the art of spiritual healing.

Vision Quest assists individuals who seek to find their true nature in nature.


HubbleSite is a web page with information and images from the Hubble Space Telescope.

Symbols.com is the world's largest online encyclopedia of graphic symbols, ranging from ideograms carved in mammoth teeth by Cro-Magnon men, to hobo signs and subway graffiti.

Art Images for College Teaching is a royalty-free image exchange resource for the educational community.

Stevee.com , The psychedelic cyberpod of visionary artist Stevee Postman.

Wisdom informs, entertains and empowers by showcasing human values and the impact of the mind, body and spirit connection on individuals and the global community.

Caerdroia is a site dedicated to the understanding and use of labyrinths in the classical and modern worlds.

World Government Institute is presented as a Web Based Educational and Informational Site dedicated to the concept of One World Government based upon Human Rights and Peace for all of Humanity. You can also visit Garry Davis to find out more about his campaign for "World President."

Whole Earth is committed to a vision of what's needed to challenge ingrained patterns and stale assumptions. Curiosity. Exploration. Independence. Community. Living fearlessly. Principles. Tools and ideas

JobSube Job Openings, Job Listings, Job Positions, Job in USA, India, UK FREE at JobSube.com - Find Jobs and Search Resume, post resumes, post jobs, apply Jobs, employment resources and career advice.

The Berkshire Museum, recognized as one of the finest small Museums in the nation, is one of the few Museums where art, history and the natural world are displayed in one place. "Wally" a 26-foot long, 10-foot high stegosaurus welcomes visitors to the Museum.

Mass MoCA is an extraordinary project to convert a 27-building historic mill complex in the Berkshire mountains of Western Massachusetts into a multi-disciplinary center for visual, performing and media arts.

ORION - To heal the fractured relationship between people and nature by undertaking education programs that integrate all aspects of the relationship: the physically immediate, the analytical and scientific, the inspirational and creative.

Wise In Council presents Northeast United States Workshops & Trainings in 2001 with African Healer and Shaman -- Malidoma Som้.

School of Wisdom Internet Classes. Information and knowledge are easy to come by, too easy. Just run a search engine on anything and you'll be over-whelmed. But how to make sense of it all? What does it really mean to you and your life? Ah, that's the rub! That requires Wisdom.

Way of the Dreamer -- Robert Moss. ACTIVE DREAMING is the bridge between dreamwork and shamanism. An original method pioneered by Robert Moss, it provides powerful tools for understanding and exploring dreams, for embarking on conscious dream journeys, and for bringing the energy and insight of dreams into waking life.

Science and Spirit Resources Our vision, to restore life's balance, encourages the scientific and spiritual aspects of society to work together to tackle vital issues where solutions have remained just out of reach.

World Heritage List. The 690 properties which the World Heritage Committee has inscribed on the World Heritage List (529 cultural, 138 natural and 23 mixed properties in 122 States Parties).

WE TV is a global television service, an international effort underway since l996 to build a global television service - complemented by new media. WETV promotes sustainable human development and celebrates our cultural diversity in more than 50 countries world-wide.

Big Think High quality video interviews and insight from the world's most influential experts in business, entertainment, education, religion and media.

Global Oneness project The Global Oneness Project is exploring how the radically simple notion of interconnectedness can be lived in our increasingly complex world.

SpaceCollective Where forward thinking terrestrials exchange ideas and information about the state of the species, their planet and the universe, living the lives of science fiction today.

Millennium Seed Bank The Millennium Seed Bank is an international collaborative plant conservation initiative aiming to safeguard 24,000 plant species.

TED A video archive of leading edge thinkers, scientists, cultural creatives. Great inspiration.





Aarondell in contemplation at The Great Mosque of Djenne where the Bani and Niger rivers meet, south of the Sahara, not far from Timbuktu.




A message from the Bwana:


My esteemed patrons, fellow collectors and members of Geographic Society...

You may be assured that new shipments of palace booty, temple treasures and gravegoods have been sent from Africa, Asia and South America. You will find a particularly rich haul from recent travels in the Andes and the Himalayas.

Our expeditions reached sub-Saharan Mali and the magical island of Bali. We floated by cargo boat down the Irrawaddy in Burma and ventured from the birthplace of the Inca on Lake Titicaca in Bolivia to the volcanic altar of Mount Bromo on Java. We captured mystical moments on film and wisdom of the high lamas in our hearts. We have reaped great troves of sacred and secular artifacts, ornaments and images. Most thankfully, we have found tangible, cerebral and spiritual evidence of an inspired planet.


Vines in full summer bloom at our Massachusetts location

Your faithful servant,
Aarondell Livingstone
Rangoon 1998
| | |
| --- | --- |
| | |
Inspired Planet Gallery
You can come in and discover a fascinating world within our charming old barn on Route 7 in the heart of the Berkshires, in far-western Massachusetts. We're located 3 hours north of New York City (via the Taconic Parkway, RT 22, or NY Thruway), 2 1/2 hours west of Boston (via the Mass Pike / Rt 90 exit 2), one hour south of Vermont (via Rt 7) and one hour north of Connecticut (via Rt 7 or 91 and 90). From the Mass Pike, exit 2, take Route 20 (which becomes Routes 7 & 20) seven miles north. Brushwood Farm sign is on the right, with plenty of parking. Look for the black barn with the big window. We're open every afternoon during the season, but it's always good to call first.

The gallery is situated conveniently in the center of the Berkshire Hills, a region renowned for its New England charm, fresh air, nature trails through the woods, lake swimming in the summer, leaf colors turning in Autumn, and skiing in the winter. We are seven minutes from Tanglewood, summer home of the Boston Symphony, eight minutes from Kripalu, the largest yoga/health center in the country and six minutes from Canyon Ranch, the prestigious spa resort.

Arts and entertainment are really impressive in the area with The Clark Art Institute, The Norman Rockwell Museum, Shakespeare and Company, Berkshire Theater Festival, Williamstown Theater, Jacob's Pillow Dance and the newly opened Mass MOCA art museum just to name a few. There are historical attractions including Hancock Shaker Village and the homes of Herman Melville and Edith Wharton right up the road. The area has a variety of bed and breakfast inns, state park campgrounds and good restaurants. We'd be happy to make recommendations for you.
| | |
| --- | --- |
| | |
| A trove of fantasy furnishings. | Artifacts inside The Main Chamber. |
Hello- I am Didik Wahyudiadi, a freelance graphic designer living in the small village of of Canggu, on the island of Bali. Much appreciation for the trust Mr. Dudley gave me to update inspiredplanet.com"

You can reach me at: didik.ga@gmail.com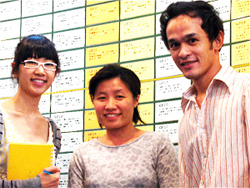 Aware Corporation Ltd.

Thanks for giving us a chance to serve you :-) and thanks for sharing your wonderful & exciting experiences through inspiredplanet.com.

Hope to meet you again. ,

Aware Team.
Ralph van den Berg, the former Inspired Planet Web Guy: Nice job so far Joe, now I'm making modifications and additions throughout this intricate web of a site. For more about me, visit RalphvandenBerg.com or i.am.ralphvandenberg.com.
A message from Joe Monte, a former Inspired Planet Web Guy: Greetings, I would like to take this time to say hello and tell you a little about myself. I am a college student majoring in Computer Science interested in designing software for robotics, particularly with artificial intelligence. I am also part of the Seti@Home project, a non-profit organization set out to find signs of life in the vast reaches of the universe. If you would like to contact me, you can do so by sending an email to count218@hotmail.com. Enjoy the site.
A message from Greg, Providence RI:
Hello Dudley,

Thought you might be interested in seeing the new home that the beautiful Burmese umbrella found. As you can see, I put it in the bedroom, paired with a Rajasthani puppet doll, a Balinese wooden bowl, and the quilt which I also bought in Rajasthan. The dog on the bed is Buster, who is irresitable but turns the place into a flop house.
I'm so glad we found your beautiful shop -- so many exciting, exotic things -- wish I had a bigger budget to spend! Thanks -- I'll think of our fun mini-trip and your shop every time I look at the umbrella. -Greg, Providence RI
A message from Rebecca Sohn:
Dudley,

I want to thank you for the wonderful experience your gallery provided. The artifacts, jewelry, furnishing and art not only held their own beauty but collectively served as a reminder of how truly rich and fascinating our world can be. Subsequently, I have polished my ex-voto earrings and they look simply BEAUTIFUL! I can't wait to wear them.
Ironically, while traveling home, I was reading one of my not-so-boring business books and came across Burning Man. I was surprised (but shouldn't have been) that your website had a link to it. Have you ever attended this event?
In any case, you were delightful in many ways! I wish you continued success with your journey.

Warmest regards,
Rebecca Sohn
A message from Alek Shapiro, Quincy MA:
Your shop is such a beautiful, inspiring place, as the name indicates. One of the things that really strikes me is the natural lighting juxtaposed against the wooden background. I hope that your next trip, whatever that maybe, is great. -Alek Shapiro, Quincy MA
A message from Cheryl, Waterbury, CT:
I would just like to thank you once again for sharing your treasures and knowledge with everyone. I happened upon Inspired Planet very unexpectedly for the first time today, while on a mindless 3-hour car ride that had no destination or direction. I was drawn to your store just by the sign, but knew I had found something very special once I started to walk the path. The amazing energy and serenity alone upon entering your shop was enough to help ease my soul. All that was weighing me down was released with each passing artpiece and artifact I inspected. After slowly exploring your store many times over,

I was drawn to some truly magnificent pieces that have allowed me to feel the beauty of the hands that made them. Dudley, you were so peaceful and inviting, and answers all of the many questions that I had (which had fascinating answers by the way), that it made my whole experience that much more special. I feel truly blessed that I was brought to your sanctuary, to experience all of the wonder you have collected from your journeys.. I have now found my most favorite place that I have ever had the pleasure to shop in, and look forward to my many returns to this sacred spot. Namaste, my new friends.

With Loving Kindness,
Cheryl, Waterbury, CT
A letter from Laura West, M.Ed.:
Dear Dudley,

My husband and I have had the privilege of being in your store and met you a couple of times when we have traveled out to the Berkshires. We found a lovely Balinese angel and tin carved candle holder, as well as a walking Buddha amulet necklace the last few trips out to your store. The angel holds a place of blessing and prominence in the center of our home.

I wanted to let you know also, that I have linked to your website on my links page of my healing arts business. I feel like it has been a real honor to have been to your store and met you a couple of times over the years. I know my husband and I shall be back to visit at some point! Thank you for all that you offer the world!

Regards,
Laura West, M.Ed.
www.divinelotushealing.com
Contributions
We'd love to receive writings, revelations, and inspirations from you. If we can fit it in, we will publish your contribution here for the whole Inspired Planet community to read.
McKendrickford meets Aarondell in India

Sent in by author Bartholomew Barker. To view his site click here
The first time I laid eyes on Aarondell Livingstone he was hovering at least ten feet off the ground with a most serene expression on his face.

I was visiting India for the second time, my first visit being while I was a wee bairn quite some years earlier, and as a free citizen of the Empire with no discernable skills, I was traveling the sub-continent attempting to make my inheritance last as long as possible, a pound going a good deal further there than in Glasgow.

It was midday and I was wandering through one of the many open-air markets of Madras, perusing the selection of local teas when there was a great commotion ahead of me and I saw a man rising off the ramshackle roof of a merchant's stall. As I ran forward I could see a beatific smile on his face as
he clutched a small metal bowl in one hand and a rope in the other. The rope, I later learned was being pulled from the top of the neighboring building by an army of small children. Having swung out over the street, this man was gently lowered to the ground, right in front of me.
For the rest of the story, click here
This story was sent in by journalist Brian Scipione from Austin, Texas. To view his site click here

The hills and trees of lovely Lenox spoke to me, as I wandered through forests of green; my senses eating up the beauty of the natural world. It's no wonder, I thought, the BSO can rediscover complex curves of musical harmony in this landscape. The spicy smell of dry pine crept into my mind and distracted my thoughts with images of adventure. So with the hearty notes of breaking twigs as my lone companion, I took off through the trees.
I pictured myself as a deer moving on sturdy legs through even sturdier oaks, birches, and elms. My frolic lasted but ten minutes when suddenly, like the abrupt flash that signifies the start of a movie, I found myself approaching the rear of a shopping plaza. Getting back my breath I ambled passed all the little shops. I had almost reached the main parking lot when my eyes were diverted by a quaint little barn on my left The midday sun gleamed fiercely off one side that was constructed completely in glass. Moving closer I came upon a herd of mighty elephants. They were harmless however, being made of wood and intended only to display a sign of warning. Startled that a sign was somehow necessary, I wondered where my adventure had led me.
Then from deep within the barn, the tranquil music of some extraordinary stringed instrument slithered out to assure me, to entice me, and to invite me in. The scents of candles, and incense, and pines, and mystery swirled about my head; as my eyes tried to focus on stone statues, wooden sculptures, colorful rugs, peculiar paintings, detailed jewelry, bizarre implements, or just the sun glinting of the array of gongs. But there again was that music like I had never heard before right on top of me; it seemed to radiate from the very objects that surrounded me. It seeped into me, calming me, positioning me among an underlining beauty that inspired me to explore my surroundings. My eyes were first attracted to a magnificent wooden horse with its life-sized front leg drawn up as if ready to charge.
My eyes drifted below the thick, black hoof to the floor, where a wooden, Thai-style Buddha rested in the lotus position. His eyes seemed to bore through a friendly looking elephant marionette that swayed slightly in its twine bindings. Teak wood cases stood forth and demanded my attention with their intricate hand-carvings outside and plethora of treasures inside. I hungrily took in the sight of various shaped magical amulets and attractive necklaces. Then the scent of a fine incense lured me deeper into this exotic forest. I discovered a little closet-sized room, titled "The Temple."; Even though I entered slowly, I was instantly consumed by the eyes of: Mexican religious paintings, the Hindu Ganesh, a doll from the Day of the Dead, Japanese and Chinese Buddha's, photographs of relatives, human-shaped altarpieces, and a countless host of deities that had gathered together around the small flickering of two candles.
As softly as I crept in, I left the Temple. More objects awaited my inspection along the shelves that littered the windows. My curiosity was piqued as I approached them but I again found myself halted. This time by a solitary human voice that expressed greetings. The shopkeeper had found me and wanted to know if I had any questions. I did indeed.

Geography, Travelers' Tools and Travel Information. Click on an area of the map for information on that location.