Artifacts | Paintings | Jewelry | Masks & Ritual Objects

You can trust our selection of goods
Our hunter/gatherers are the best in the field. They have years of experience discovering artifacts and observing artisan craftsman at the source. We determine the best values, we find the pieces with power, and we hand-choose each one for our most discerning clients.

"Shopping itself, as we all know, can be a very liberating experience. It is a measure of our self-esteem that we allow ourselves to shop; a measure of even greater self-esteem if we shop for something expensive. In Western civilization, of course, this is taken even a step further, and the truly respected people are the ones who can spend money hand over fist on the utterly useless, or the wildly extravagant."
-Jeff Greenwald, Shopping for Buddhas


When you buy an artifact at Inspired Planet you are benefiting the artisans and their families—the woodsmen, weavers, miners and metalsmiths that gather and craft the teak, turquoise, silver and silk— you support the sons and daughters who carry on the techniques, the grandmothers and grandfathers that remember the stories, and hundreds of local folk who provide logistical support here and abroad. You become part of a worldwide system of intercultural exchange and expression.



<> Artifacts in The Main Chamber
Item
Price
Baker's Weights - Antique from China. NEW SHIPMENT
$27
Buddha in the form of a Monk - Carved teak with real gold leaf. Burmese.
$350
Esarnpipes - primitive musical instrument, Esarn, Thailand.
$28
Heart Sutra - stone scriptures handcarved by a lama, Tibet
$135
Clay Buddha Tablets - shamanic stick figure Buddhas, Thailand
$27
Naga Head - Carved bone primitive ancestor, from remote Nagaland 4½" tall
$250
Ear pods - from a giant tropical tree at the heart of the Caravan of the Beautiful
$-
Flower Buddha - finely cast Buddha, Siamese late 18th century style.
$750
Sage Pipe - Opium pipe made of raku pottery. Vietnam
$85
Spirit House - Teakwood. Thailand. Authentic architectural design.
$75
Paisley Journal - 6 X 8.5 inches, soft cover approx. 50 handmade pages covered in purple cotton velvet

$9
Saraswati - Bronze with gold leaf, height 9"

$450
Mauritanian Caravan Chest - Authentic old wooden vessels used on
Camel caravans across

$650 to $1850
Buddha amulet - old silver and bronze

$33
Torso with internal organs Exvoto - silver

$50
Eyes Ex-voto from Sicily - silver

$33
Silver Rattle Snake - Navajo Indian design-pendant AND pin

$50
Candleholder - made from antique teakwood silk shuttle

$25
Rainbow Buddha Siamese ClayTablets A - connecting earth and heaven

$36
Rainbow Buddha Siamese ClayTablets B - connecting earth and heaven

$45
Exuberant Man Vessel - Medicine cup, clay, Peru
$57 -SOLD
Tiger - wood, carved and painted Folk Art.
$57 -SOLD
Court Characters - Antique Burmese carved teak, vestiges of paint
$525 to $850
Tibetan Singing Bowls - Old, authentic, collected in the Himalayas NEW SHIPMENT!
$64 to $750
Burl Box - Handsome wood, assortment of sizes, Atlas Mountains, N. Africa
$44 -SOLD
Elephant Puppet - Carved acacia wood, some paint, Thailand
$48 -SOLD
Minister and Wife - 19th Century, Court of Mandalay, Burma
$525 each
Colonial figure - Painted wood, Ivory Coast, Africa
$85 - SOLD
Antique Cache Box - Authentic 17th, 18th, 19th century, South India.
$220 to $450
Ritual Bell and Dorje - Bronze, Tibetan Buddhist culture, set. Large size.
$120
Inca Walking Fish - painted ritual vessel, fired clay, Peru
$85 -SOLD
Burmese Temple Gongs - Various sizes, Buddhist culture, great sound
$28-$775
Buddha head - Silvered bronze, 14th Century style, Java, Indonesia
$95
Buddha of Immeasurable Light - Sacred wood, hand carved in Bali
$365 -SOLD
The Buddha of Immeasurable Light - Mahogany wood, Hindu/Buddhist culture, Bali. We're currently hunting for more Buddhas in the orient. Stay Tuned!
$425 -SOLD
Avalokiteshvara - 9th Century Buddhist style, Java, Bronze
$225
Prosperity Buddha - Bronze, Chinese, Ayuthaya Period, Thailand
$350
Harihara - Polycrome concrete, wood base, Early Khmer style, Cambodia
$385 -SOLD
Shiva + Uma - Shiva + Uma - Bronze, Hindu culture, Java
$275
Avalokiteshvara - Silvered bronze, 9th Century Buddhist style, Java
$435
Vishnu-Cosmic Dreamer -Antique weathered wood, Hindu, South India.
$3500
Green Tara - Buddhist goddess of compassion - copper, Tibetan culture Nepal
$425
Laxmi (Goddess of Abundance) - copper / 24k gold, Newari, Himalayas
$1200 - SOLD
Ganesh - Bronze, Hindu culture. We have many other Ganesh images in stock.
$135 -SOLD
Benjarong (Cachepot) - Porcelain, 24K gold details, Hand painted, Thailand
$85 - SOLD
Ceremonial vessel - Copper, 1930's style, Michoacan, Mexico
$425
Bird Dance Helmet - Yoruba/Voodoo, wood, paint, rattan, magical paste.W.Africa
$425 -SOLD
Charming Handcarved Wooden Angel - antiqued and white-washed
$64
Lamp Bearing Monkeys - Bronze, Old Javanese style, Indonesia
$350
Treasure Chest - Wood, steel, brass, copper, Caravan culture, Southern Sahara
$1850
Flying Dragon - Fantstic handcarved wood, Bali
$295 - SOLD
Black Rhino - finely carved teakwood with remarkably realistic textured hide
$64
Three Elephants - Porcelin, Chinese Style, Thailand
$12 for three
Sumba King's Blanket - Hand loomed cotton ikat, Animist, Sumba, Indonesia
$1350
Vietnamese Ritual Gong - Hand tempered bronze, Animist / Ancestor Worship
$435-$725
Baby Elephant - 9th century Kingdom replica, with royal trappings and trunk up
$18
Meditation Chime Bowl - Copper and tin, with silk ring stand and wooden mallet
$36
Elephant Tower - Hand carved camel bone, Moghul / Raj Period, India
$52-$64
Elephant with Maharaja - Hand carved camel bone, Moghul / Raj, India
$45
Siamese Spirit House - Golden Teakwood, Thailand, enchanted. New Shipment
$57 - $145
Bird Crown - Kings helmet, all beads, Yoruba culture, Nigeria, Africa.
$495 -SOLD
Sun Mirror - Carved mahogany with gold leaf.
$245
Monster Bells - Centuries old, protection amulets, China. NEW SHIPMENT
$9-$95
Tasting Spoons - These fine rosewood spoons are handcrafted in Thailand.
$16
Three Monkey Musicians - Charming set of three minstrel monkey
$165
Rare old Wooden Stamps - used in ritual by Shamans
Antique Opium Weight.-This is an unusually large, heavy specimen with handsome stylized duck motif.

$345
Standing Spiral Cross. - This is a handsome free-standing cross with vines handcarved into wood
$57
Goddess of Abundance. - This Goddess has great character
$64
Garden Buddha - We found this lovely Buddha in a Balinese garden but would be perfect indoors
$45
Ceremonial Bowl. - from Irian Jaya. Asmat tribe. The vessel is used during special rituals for serving sagu
$375
King's Blanket. - King's Blanket from Sumba Island
$1250
Flower Buddha - Heavy Bronze, finely cast Buddha, Siamese late 18th century style.
$750
Chinese Immortal - From early Taoist mythology come wisdom principles embodied in ageless sages
$275
Huichol Shaman Mask - Peyote hallucinations are interpreted by spirit guides, called Mara'Akame, during the indian's
$345
Amethyst Buddha - This translucent Buddha sits meditating in a transcendental groove somewhere between colbalt blue and grape cool-aid
$45
Celtic Endless Knot - Old Celtic culture stretched from Scandinavia to Ireland to France and beyond.
$33

Clay Buddha Tablets - Made by medicine monks, shamanic stick figure Buddhas with magic symbols

$48

Antique oil lamps. - Antique oil lamps from the Himalayas

$375

Celtic Cross. - Rustic and handsome cross, hand carved from jambonese wood

$36

Celtic Cross. - Rustic and handsome cross, hand carved from jambonese wood

$36

Magic Pentangle - For Wiccans, this is the power symbol of The Craft

$36

Spiral Cross - This is a handsome cross with vines handcarved into wood

$40

Green Woman Statue - This Nature Deva is handcarved stone from Bali
s

$350

Ethiopian Hand Crosses - We have a very limited supply of these brass emblematic devices carried by the wandering priest/healers in Gondar and Axum region

$48 - $245



<> Paintings in The Main Chamber
Item
Price
Shakyamuni Buddha with Dragons - stone color and gold on fine canvas
$2250
Kharchheri - Lokesvara stone color and gold on fine canvas, Bhutanese culture
$1750
The Medicine Buddha - Cosmic Healer, stone color and gold on fine canvas
$1750 - SOLD
The Virgin of Belen -by Gildo, oil on canvas, carved cedar wood, gold leaf frame
$1750
The Green Tara - Buddhist Goddess of Compassion, stone color & gold.
$750
Virginis Interiora - anonymous master, oil on canvas, gold leaf frame
$2200
The Virgin with Quill and Sword - oil on canvas, carved cedar wood frame
$1450
Saint Joseph and Jesus - anonymous master, oil on canvas
$2200
Madonna and Child - anonymous, oil on canvas, 18th Century style
$1450
Icon - Double Sided Triptyk, tempura on wood, 19th Century Ethiopia
$5400 -SOLD
The Virgin of Guadelupe - anonymous, oil on canvas. Peru.
$1450
Dreaming Buddha Painting - The Buddha's eyes are closed in deep meditation.
$39
Tibetan Treasure Boxes - Hand painted Snow Lion and Tiger
$125-$195
Peruvian Angel Painting (1) - is a fine example of a 17th century
$695
Peruvian Angel Painting (2) - This archangel in dandy costume makes a delightful complement to angel 1
$495
Old Oil Painting - This man and woman are giving each other a knowing look
$150
Huichol Paintings - Symbolic maps and stories made by Mexican shamans To communicate
$450
Contemplating Buddha Painting. - In Bali the Buddha is associated with the god Shiva who meditates high in the Himalayas
$44 & 69
Madonna Tryptych - Handpainted oil on cedar wood with gold leaf featuring the Holy Mother and Child
$450
Dreaming Buddha Painting. - The Buddha's eyes are closed in deep meditation
$39
Tibetan Medicine Scroll - Wandering Lama Doctors travel the Himalayas performing healings
$245
St. George and the Dragon. - We collected this authentic church painting in Axum, remote holy site in Ethiopia.

$385





<><> Jewelry in The Vault
Item
Price
Berry Earrings - Sterling Berry Earrings made for Inspired Planet by Karien nomads in Thailand.
$42
Mystical Eye Earrings - For Awareness and Protection.
$28 to $33
Cockatoo - Dayak Tribal earrings with sterling silver studs, Borneo
$75
Cowrie - Tibetan craftsmanship, with deer and foliate design
$135
Dharma Wheel - brass charm, Himalayas
$24
Eye of Horus - Sterling and Opalique stone.
$195
Gauge Earrings - Hand carved buffalo horn, vine and tendril design from Borneo.
$64
Shaman - Shaman images in copper dipped in silver or gold
$28
Tassel - A rich tassel of sterling saucer bead from Chinese nomads.
$195
Naga Cuffs - Old and rare, Two pieces, heavy bronze, Nagaland.
$1250
Prayer malas - various sacred woods, seeds and amulets. NEW SHIPMENT
$26 to $120
Radiant collar - Radiant collar - Old Taru culture, Western Himalayas.
$345 -SOLD
The Seven Sisters - Antique silver amulet, Rajasthan.
$185 -SOLD
Southern Cross from Sahara (1) - Old desert amulet.
$48 -SOLD
Southern Cross from Sahara (2) - Old desert amulet. NEW SHIPMENT
$54
Balinese Cross - Sterling silver, black onyx.
$36 -SOLD
Mexican Cross - Sterling silver.
$44
Rich Gold Vermeil Necklace and Earring Set - Antique style. More coming
$325 -SOLD
Antique Fertility Pendant - Old silver, Rajasthan.
$57
Animal Shaman Pin - copper with gold or silver, pre-Columbian style
$22-$33
Inca King Pendant / Pin - copper w/ gold or silver, pre-Columbian.
$69 - SOLD
Inca Sun Pendant / Pin - copper w/ gold or silver, pre-Columbian.
$57 -SOLD
Inca Tumi Pendant - Sterling silver, Peruvian Andes. - Limited Supply.
$18-$57 SOLD
Paisley Earrings - Sterling, French art nouveau style.
$57-$75
Pea Pod Earrings - Sterling, French art nouveau style.
$69-$85
Shaman Pendant - Pre-Columbian style
$22-$33
Egyptian Scarab Pendant - Silver, with magic formula.
$33
Sun disc necklace and earrings - silver dipped in 24 karat gold with jade beads
$425 -SOLD
Ethiopian Cross - Tribal silver. NEW SHIPMENT
$24 - $48
Silver Hoop Earrings - are inspired by the naga spirals of Chinese Hil
$85
$33
Silver and Amethyst Bracelet. - We selected this stunning set of brushed sterling and square cut

$225
Sterling silver Siamese filagree earrings - Tree of life design, just long enough. Handmade in Thailand.

$54
Sterling silver Siamese filagree earrings - Star and moon with shimmering arrows. Handmade in Thailand.
$48
Sterling silver Elephant Earrings. - Adorable and auspicious, with trunks up. Handmade in Thailand
$33
Sterling silver Siamese filagree earrings - Petite and attractive. Handmade in Thailand. Surprisingly light.
$32
Sterling Pendants
Shield Pendant/Pin - Sterling silver with black and white fossil.
$175
Lapis and Gold Vermeil Shield - Both luxurious and powerful, this is our exclusive design…Large deep blue lapis lazuli from the Hindu Kush in Afghanistan
$450
Plumed Serpent Necklace, Earring and Bracelet from Mexico. - Stunning design inspired by legendary Mexican god of transformation
Necklace $745
Earrings $395
Bracelet $425
Triangle Dangle Earrings - Sterling silver Siamese filagree earrings. The design is long and elegant

$57



<><>Masks And Ritual Objects in The Den of Osiris
Item
Price
Ritual Daggers - 2¾" Right Keris with mystical eye hole and Arabic writing on sheath.
$25
Eye of Horus - Sterling and Opalique stone.
$150
Buddhist Heart Sutra - Himalayan stone scriptures in Tibetan sanscrit, handcarved by a lama.
$135
Jaguar Helmet - Fierce costume worn by the jaguar dancers of Guerrero.
$850
Naga Shield - Power amulet etched conch shell. 3½" Nagaland.
$48
Naga Head - Carved bone primitive ancestor, talisman from remote Nagaland. 4½" tall.
$250
Siamese Juju Nuts - intriguing talismans texture and woody quality feel good in the hand.
$2-9
Shaman - Shaman images in copper dipped in silver or gold
$28
Thai Charms - Extensive collection of amulets and charms.
$24-32
Lampbearing Sphinx - Height: 14" , Bronze, Egyptian, Country: Java
$950
Akha Spirit Guardians - Height: M-32.25", F-36.5", Wood, Akha hill tribe, Thailand
$5400
Medicine Man - Height 19.75", wood (hand carved and pointed), Camaroon
$1250 -SOLD
Burial Stick - Beaver skull, feathers, dear hide, trade cloth, horse hair, 20th Century
$235 -SOLD
Ritual sword - carved and painted teak wood, 19th Century, Country: Burma
$125 -SOLD
Bobo Sun Disc from Upper Volta -Height 27.25", Solid wood, Country: West Africa
$425
African Congo Cult Knife with authentic patina - Ritual Knife.Congo.Length16 7/8'',
$325
Power Stick - Length 16.5", 20th Century, Country: America
$185 SOLD
Jaguar head - Height 11", Blonde wood, Huave Tribe, Country: Mexico
$125 - $250
Fetish box - Lenth 10", Buffalo horn and bone, Lombok island, Country: Indonesia
$85 -SOLD
Ceremonial Dagger - Length 16", wood, steel and white metal. Classical in design We have a fantastic new collection of ritual Kris daggers from Indonesia coming.

$125

Stay Tuned

Medicine vessel - Height 10", buffalo horn and carved wood, Batak culture -- Limited
$145 SOLD
Shaman's mask - Height 16", wood, fur, porcupine, horn, Huave tribe, Pacific coast
$275 -SOLD
Shaman's mask - Height 12.5", cow skull, horse hair, wood, Mixtec Indians, Mexico
$145 SOLD
Shaman's mask - Height 12.5", wood, yak hair, Sherpa culture, Nepali Himalayas
$285 *
Ritual vessel - Etched clay, Tiwanaku culture, Bolivia.
SOLD
Medicine vessel - Height 10", buffalo horn and carved wood, Batak culture Sumatra
$145 SOLD
Spirit mask - Height 11", wood, cowrie shell, metal, fabric, Dan tribe, Ivory Coast
$265
Satimbe Mask - Height 37", Dance Goddess, Wood and Jungle Rope, Dogon Culture
$1250
Dewi Sri mask - Height 22", Fertility Goddess, wood, husk, Bali, Indonesia
$95 - SOLD
Initiation mask - Height 31", wood, raffia, white pigment, Congo cult paraphernalia
$745 -SOLD
Mende Helmet - Women's initiation spirit, h.-16", wood, Sierra Leone, West Africa.
$450
Spirit Mask with Ram's Horns - Height 14", Wood, fiber, painted ochre, magical
$345
Dewi Sri Mask - Underlying Balinese Hinduism
$425
Nature Dewi Mask-Underlying Balinese Hinduism is a deep animist connection to the forces of Nature
Tree Dewi Mask-Underlying Balinese Hinduism is a deep animist connection to the forces of Nature
Sprout and Root Spirit Mask-Underlying Balinese Hinduism is a deep animist connection to the forces of Nature
Navi Nature God -From ancient times, Balinese believed that the powers of nature rise up through the earth, through the rich dark soil, entering the roots of plants and trees
$245
Nature Dewi Mask-Underlying Balinese Hinduism is a deep animist connection to the forces of Nature
$225 - $450
Jaguar Head, Mexico - Native Shamans of South America transform into jaguars to perform healings in the spirit world
$145
Root Goddess - The Balinese believe that powerful forces come up from the earth, through the rich soil into the roots of sacred trees and plants
$120 , $175, $295
Rich Eye Pendant/Pin - with large Lapis Lazuli stone
$350
Caravan Treasure Chests - from Mauritania-Authentic old wooden vessels
$650, $1200, $1850

More Products and Services
Photography
Photo Lectures
Transformative Visions
Travel Photography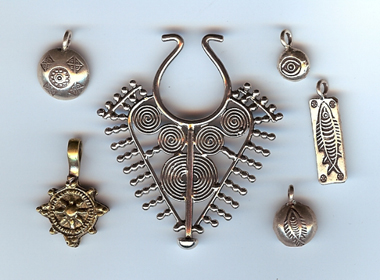 Sterling Pendants

Left to Right
Karien tribe protective shield 1/2", $21.;
Brass Himalayan Dharma Wheel double-sided 1", $16;
Mamuli Power and Fertility Pendant Sumba Island 2 1/8", $57;
Eye of Awareness 5/16", $11;
Round Fish Prosperity Charm Karien Tribe double-sided 7/16", $21;
Long Fish Prosperity Amulet from Chinese nomads 13/16", $24.


| | | |
| --- | --- | --- |
| Ceremonial Bowl - A | | Ceremonial Bowl - B |
Ceremonial Bowl from Irian Jaya. Asmat tribe. The vessel is used during special rituals for serving sagu, the sacred sweet potato so lovingly prepared by the Asmat.
Bowl A 22" has a spirit turtle head, stylized bird and gecko images.
Bowl B 24" has a human head representing a powerful ancestor, stylized fish markings.
Both $375.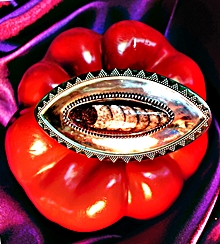 Shield Pendant/Pin


Shield Pendant/Pin of Sterling silver with black and white fossil. 3 ½" across. $125.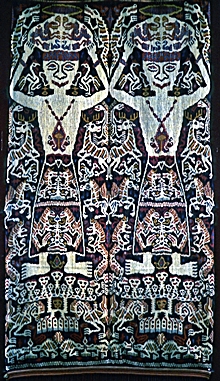 King's Blanket


King's Blanket from Sumba Island, a royal tapestry depicting two benevolent giants making offerings with dragons, crocodiles, horses, the tree of heads, deer and roosters. The mythical giants wear mamoli pendants indicting they are in the service of the queen. Natural dyed ikat cotton weaving, approx. 7'x4'. Indonesia $1250.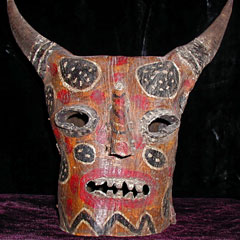 Jaguar Helmet.


Fierce costume worn by the jaguar dancers of Guerrero. The big cats still stalk the jungle and according to legend travel to the spirit world. Leather and horn. Old and experienced in ritual. Mexico. $850.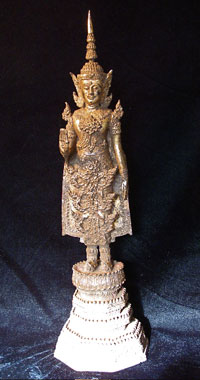 Flower Buddha


Heavy Bronze, finely cast Buddha, Siamese late 18th century style. This is one of 4 in the collection. Venerated with gold leaf. 23" tall. $750.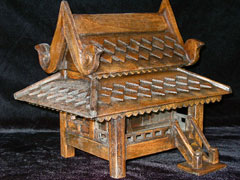 Spirit House


Teakwood. Thailand. This authentic architectural design was made to keep the Phra Phum happy. The roof lifts of with a stash chamber inside. 8"x7"x8". $75.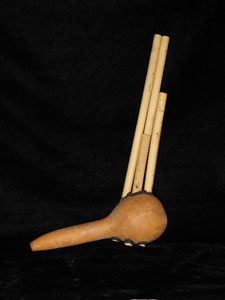 Esarnpipes


Authentic primitive musical instrument from the legendary region of Esarn in Thailand. Made from calabash, bamboo and put together with beeswax. Not easy to play, but they blow mesmerizing dance tunes with them. $28.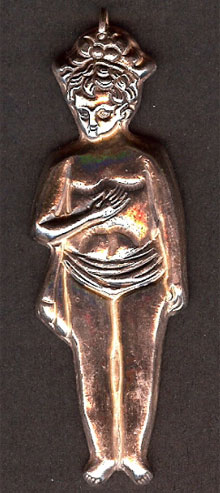 Ex Voto


silver prayer charm from Sicily. Focuses healing for a baby or boy. Traditionally hung by the child's bed or to a church to commemorate a miracle 3 1/8" $33.