Travel Wisdom
"There are deeper reasons to travel--itches and tickles on the underbelly of the unconscious mind. We go where we need to go, and then try to figure out what we're doing there. It took a surprisingly long time for me to realize that all these trips to Nepal and environs were united by a single, fundamental theme: the need to steep my cerebral cortex in the culture and religion of the region, in the hope that as much of it would soak in as possible. It was like heaving my brain into a fathomless lake--an unpredictable pool that sometimes seemed as clear and clairvoyant as a crystal ball, but at other times rippled black and opaque, like octopus ink--and hoping it could swim."

-Jeff Greenwald, Shopping for Buddhas
Postcard From Our Legendary Founder
Close your eyes and imagine an erstwhile bodhisattva boinging between heaven and earth. I rooted through the gangled streets of Kathmandu gathering sacred symbols. I felt the blessing of holy men at the Shiva temple and nearly sank in the shit of a million pilgrims. Now alighting among the pools and gardens of the Osho ashram in India. We do dance meditations to raga rock jazz fusions. Here I have a moment to breathe. It's been a challenge handling biz and staying creative. Contrasting a collection of antique lamps with a line of modern lanterns of my own design. Thinking of new ways to tell the old stories. Living this journey and trying to bring it all home.

-Love, Aarondell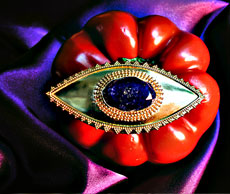 Lapis and Gold Vermeil Shield.
Both luxurious and powerful, this is our exclusive design…Large deep blue lapis lazuli from the Hindu Kush in Afghanistan, set in an Eye Shield, bringing awareness and protection. The back has a brooch pin and pendant for hanging. Approx 3 ½" $375.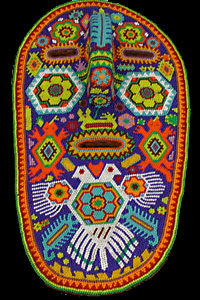 Huichol Shaman Mask
Peyote hallucinations are interpreted by spirit guides, called Mara'Akame, during the indian's ritual pilgrimage from the Sierra Madre to the high desert to hunt their sacred cactus. This powerful Mara'Akame mask is larger than usual in the older style before Huichol art was commercialized. Symbolic animals include double headed eagle, deer, scorpion, gila monsters. Note corn, shooting stars and peyote flowers. Beads, bees wax on wood. 13" Mexico. $345.

Amethyst Buddha
This translucent Buddha sits meditating in a transcendental groove somewhere between colbalt blue and grape cool-aid. Should be placed by a window or lamp for full effect. Thailand. Resin. 5 ½", $45.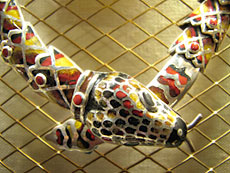 Plumed Serpent Necklace, Earring and Bracelet from Mexico.
Stunning design inspired by legendary Mexican god of transformation, Quetzalcoatl, sacred to the Mayans and Aztecs. The original was made for haute couture in the 50's. This is a gorgeous handcrafted reproduction in sterling silver and enamel.


| | | |
| --- | --- | --- |
| | | |
| Necklace $675 | Earrings $345 | Bracelet $420 |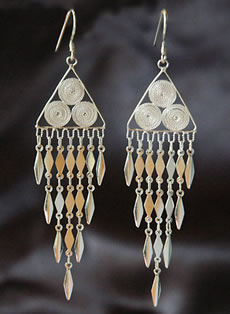 Triangle Dangle Earrings
Sterling silver Siamese filagree earrings. The design is long and elegant. Handmade in Thailand. Surprisingly light. $48.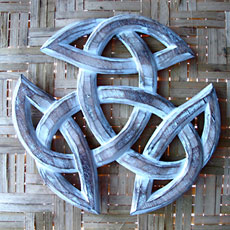 Celtic Endless Knot
Old Celtic culture stretched from Scandinavia to Ireland to France and beyond. Their intricate artistic symbols were incorporated into both Christian crosses and illuminated manuscripts and Pagans ornaments and ritual objects. This Trinity represents the connection between- power, intellect and love; mother, father, child; past, present and future. Hand carved, burnt and white washed wood.
11", $33.

"I've always been sensitive to nomads, the inhabitants of Mongolia as well as globetrotters or punks...To travel is to shed preconceived ideas; it's mixing with others and getting mixed up--physical travel or traveling in your head."
-Jean-Paul Gaultier, Parisian designer.


Photo locations on this page include the western Sahara desert in Morocco, a Sunyasin in South India, the high plains in Peru, a remote Buddhist temple in Myanmar, a Canyari grandmother in Ecuador, a Katakali dancer in Kerela, Kikuyu hunters in Kenya, a Himalayan valley in Nepal, the mountains of Ethiopia, and the ruins of Angkor in Cambodia.
All photographs are copywrited by Inspired Planet and Dudley Levenson. It is forbidden to use these images without our agreement. They are available for purchase or may be leased on a per use basis. Please E-mail us for permission, details, and special requests.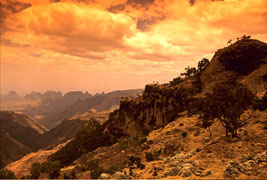 Heavenly promontory in the Semian Mountains overlooking the Great Rift Valley, Ethiopia.

"Let the tourist be cushioned against misadventure, but your true traveler will not feel that he has had his money's worth unless he brings back a few scars."

-Lawrence Durrell
---

Extreme Adventure in the Himalayas

We like excitement, but why would anyone in their right mind go over Niagara Falls in a barrel, swim with sharks along the Great Barrier Reef or mountain bike in the Amazon jungle? This answer to this question is approached through a true life tale of extreme sport in the Himalayas,
The Last River, by author, Todd Balf. Check out this review by David Hachman:

"One hundred thousand years of human exploration hasn't made things easy for the turn of the millenium adventurer. After all, with Everest conquered, the oceans fathomed, and earth already crisscrossed by foot, rowboat, and hot-air balloon, what's left to conquer?

That quest is the driving force behind The Last River: The Tragic Race for Shangrila, Todd Balf's heart-pounding account of the ill-fated 1998 kayak attempt on Tibet's fabled Tsangpo River, a raging, never before ridden torrent in the dark shadow of the Himalayas.

The Last River is a page-flipping odyssey fueled by the adrenilin and near madness of a team of well-heeled world class thrill seekers hot on the trail of an unspeakably dangerous (and ultimately deadly) challenge. And like Mount Everest, the Tsangpo, which roars through a razor thin gorge three miles deep in places, is among the planet's most inhospitable and untested environments--impossibly remote, endlessly mysterious and complete with its own Death Zone.

This isn't just any river, but the Great River, beginning as a near frozen trickle on the 22,028 foot summit of Mt. Kailas (the universe's cosmic center, according to Tibetan Buddhists) and diving 10,000 feet at speeds upwards of 50 mph through a chasm three times deeper than the Grand Canyon. With its sheer mossy walls, 50 degree water temperatures and torrential falls, the river had never been fully explored, let alone kayaked.

Balf digs in to what drove these men-- with their Harvard educations, Olympic medals, and families back home -- to fool with devil waters that would eventually claim the life of one of the team's strongest paddlers.

- excerpted from a review by David Hachman in Entertainment Weekly. The Last River by Todd Balf is available at the Inspired Planet Bookstore.


"Could it be, I wondered, that our need for distraction, our mania for the new, was, in essence, an instinctive migratory urge akin to that of birds in autumn?

All the Great Teachers have preached that Man, originally, was a 'wanderer in the scorching and barren wilderness of the world'---the words are those of Dostoevsky's Grand Inquisitor---and that to rediscover his humanity, he must slough off attachments and take to the road.

My two most recent notebooks were crammed with jottings taken in South Africa, where I had examined, at first hand, certain evidence on the origin of our species. What I learned there---together with what I now knew about the Songlines---seemed to confirm the conjecture I had toyed with for so long: that Natural Selection has designed us---from the structure of our brain-cells to the structure of our big toe---for a career of seasonal journeys..."
-Bruce Chatwin, The Songlines.


"I wanted to be something that I was not. I even wanted to be a poet and a middle class person at the same time. I wanted to be an artist and a man of fantasy, but I also wanted to be a good man, a man at home. It all went on for a long time, till I knew that a man can not be both, and have both, that I am a nomad and not a farmer, a man who searches and not a man who keeps. A long time I castigated myself before gods and laws which were only idols for me. That was what I did wrong, my anguish, my complicity in the worldís pain. I increased the worldís guilt and anguish, by doing violence to myself, not by daring to walk toward my own salvation. The way to salvation leads neither to the left nor to the right: it leads into your heart, and there alone is God, and there alone is peace."
-Herman Hesse, in Wandering.
Free Will
If we want to characterize the human in relation to other live organisms, without resorting to metaphysical hypotheses, we must point to the immense potential for movement that humans alone possess among all living beings. Our psychological complexity stems from our extraordinary mobility which allows us to explore all corners of the world, a mobility we don't just passively acknowledge, but also hope to expand. So far, we can successfully travel through space, plunge into water, overcome fire (not without fear), descend underground, and penetrate objects after examining their surfaces. This feeling of freedom, power, and domination over things keeps us skeptical about any cosmic determinism controlling humanity. We experience a sense of free will.

-Mirror of the Marvelous-
The Classic Surrealist Work on Myth
Pierre Mabille
Inner Tradition International, Rochester, Vermont, 1998